Deskripsi Produk
Descriptions of LT1610 Stainless Steel Triplex Pump With 1450rpm :
We offer a complete line of stainless steel triplex pumps to meet the demands of many industrial applications, such as reverse osmosis sea water desalination, seal gland flushing and waste water odor control. Utilized high grade materials 304, 316 stainless steel, viton seals, these stainless steel triplex plunger pumps offer consistently outstanding performance.
Features :
High Strength Stainless Steel 316 Manifold
Stainless Steel 304 Screw Bolt
Precision Processed Ceramic Plunger, Durable, Dependable
Aluminum Alloy Crankcase, Anti-Corrosion, Heat Dissipation
Forged Crankshaft, Special Heat Treatment
Alloy Connecting Rod
Stainless Steel Checking Valve
Viton Seals, Anti-Corrosion
Data Sheet :
Model
Flow Rate
Pressure
Power
Rotation
Plunger
Stroke
L/min
GPM
bar
psi
hp
kw
rpm
mm
mm
LT1610
16
4.23
100
1450
4
3
1450
22
7
Remark:
1. Max. Pressure 100 bar
2. Hollow Shaft, 24, 28mm; Solid Shaft 24mm
Applications :
Our Stainless Steel Plunger Pump meets the requirements of specialized industrial applications where corrosive and aggressive liquids need to be pumped. These s/s triplex high pressure pumps are ideally suited to applications such as saltwater desalination reverse osmosis and seal gland flushing and waste water odor control.
Food processing

Pharmaceutical & chemical industries

Reverse osmosis

Desalination

Car, Truck, Vehicles Washing

Waster Water Control
Why Choose us:
Innovative & Unique
We are the trend-setter in China for this stainless steel plunger pump, we create & design and then introduce it to the consumers, in China, only a few companies have the ability to manufacture this pressure pump, with the unique & special feature, we proudly introduce them to you too.
Cost-Effective & Profitable
Compared to other overseas companies, we have great advantage in pricing, and presently, very few Chinese companies involve in this pump, we are the really right supplier or partner for you. It will be a profitable cooperation to work with us.
Stability, Dependability
We grasp all the technology of this stainless steel plunger pump, and we utilize the high grade materials & components. The quality is guaranteed.
Superior Service & Support
The technical support & assistance is available anytime, the quick-response will be effected, the spare parts requests will be solved by most economical way.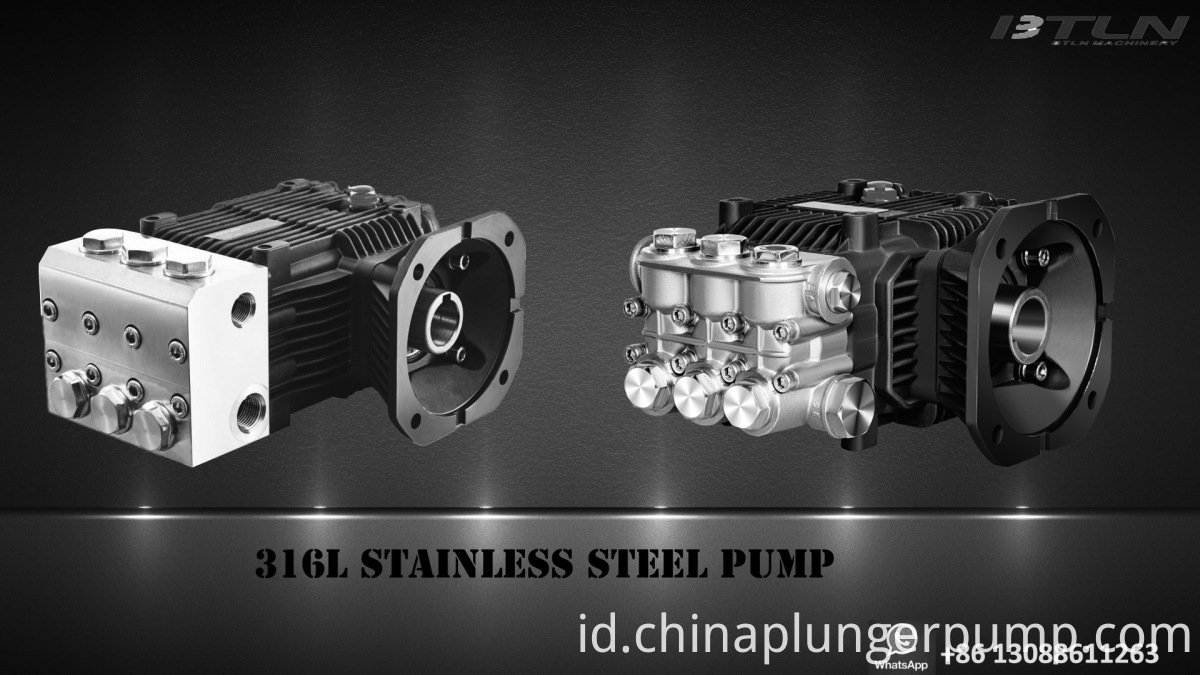 Kategori Produk : Pompa Plunger Stainless Steel Triplex > Pompa Plunger Stainless Steel Tugas Berat